As the year comes to a close, I will indulge in looking back at the Smallholder Dinner Series launched in London in 2022 and the meaning of its themes in the context of COP15.
We have had the honour to welcome fascinating and challenging guests throughout 2022 and look forward to our first 2023 dinner in February. Our most recent dinner, was attended by a small group of inspiring decision makers and practitioners from the corporate (Innocent), non-profit (Farm Africa, WWF, Anglo American Foundation & One Acre), academia (CISL), and the financial sector (Agri3Fund). Our get together was a welcomed opportunity to relax and explore the challenges, insights and solutions impacting the delivery of Goal 13 (Climate Action) across smallholder value chains.
Making the case for climate change : "It's all about social impact"
When the phrase the Triple Bottom Line was coined by John Elkington in 1999 in "Cannibals with Fork: The Triple Bottom Line of the 21st Century Business", it certainly felt like a revolution as we had a simple but powerful framework to classify, assess and address ESG impacts. The concept of People, Planet, Profit entered our vocabulary and became second nature. Whilst this helped frame and integrate our thinking, making the case for the Planet, it was still a slow and frustrating process often attributed to the "Tragedy of the commons". I would also argue that this is in part because we have failed to translate what climate change meant in human or social terms. Climate change was and remains a fairly abstract concept for most. I was not surprised when my fellow dinner guests suggested that climate change was actually a social issue and that we may go further and faster by referring to it as such. After all, some may not be swayed into action by the threat of change in weather patterns but may related to the impact it has on food security, jobs, and human health. Bringing this concept to the context of agricultural value chains, could we deliver more impact by addressing the issue of how smallholder can feed themselves (a social issue) rather than focussing on carbon?
Carbon data : "A necessity or excuse for inaction"
Whilst the agricultural space is benefiting from growing affordable offering of AI solutions to capture data, much of the narrative on climate change and carbon seems to focus on the challenges of data capture. Data is abundant but does not, in most case, reach the first miles. Some guests commented that this was due to a lack of investment in food value chains. Others pointed to the high price of collating carbon data. However, is the lack of data an excuse to delay action? Good agricultural practices have been known for decades and the business case for adopting them should be straightforward enough. Is the lack of data what is really holding us back? How can we catalyse change whilst the science of carbon data capture becomes BAU?
The role of SMEs : "The missing middle"
Whilst ESG is part of the landscape for large corporates, it is often less so for SMEs who may not have the brand exposure nor the regulatory incentives to spring them into action. The collective power of SMEs has been relatively untapped to date. However, we can argue that smaller players could put pressure on bigger players despite the size disparity. Similarly, what could bigger players do to put pressure on the "missing middle"? I am often surprised to witness how convincing larger players are when it comes to negotiating on price and quality whilst being more shy to engage to impact programmes with their suppliers. The need to "engage" and get "buy in" is often proclaimed leading us to think that the spirit of cooperation might growing along food value chains. What will it take for large corporate to truly and effectively engage with the missing middle to accelerate change?
Whilst our exploration focussed on smallholder value chains, they would not have been out of place during COP15 where a landmark deal was reach a goal of protecting 30% of land and 30% of coastal and marine areas by 2030. This leads me to question whether…
Biodiversity may have the best chance of entering corporate, public and personal agendas if we were to communicate its value in social terms?
We will learn from climate change and use data to fuel progress or let it become an excuse for inaction.
We can find ways to engage the "missing middle" to take action and deliver on the 30 by 30 goal.
Let's continue the conversation
Our next dinner scheduled for the 1st February 2023, will explore the challenges, insights and solutions impacting the delivery of Goal 5 (Gender equality) across smallholder value chains. Do join us if you fancy being part of the conversation (Cdelbe@ksapa.org).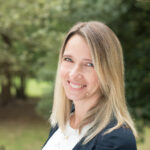 Christèle is leading engagement with companies on responsible sourcing solutions, driven by our SUTTI programs, and sustainable supply chain consulting.
For 20 years, Christèle has been unlocking commercial benefits across food, technology and non-profit sectors by pioneering strategic initiatives and shifting behaviour. Former Group head of sustainability for 14 years at Orange and Vodafone with strong interest exploring how best to leverage technologies to innovate and provide scalable solutions to human rights, carbon, waste, packaging and responsible supply chains and consumption. For the past 7 years, Christèle moved more closely to food and commodities and has been driving multi-sector partnerships for food value chains with Bonsucro, Danone, Diageo, GPSNR, ISEAL, PepsiCo, Producers Direct, RSPO, Tetra Pak, Unilever and Vodafone.
Christèle speaks English, French and Spanish.