Opening remarks:
This content was presented as an introduction to a session co-created by GIZ and Ksapa at the international conference ICTforAG (Information & Communication Technologies for Agriculture, supported by the US & German governments through US AID / Feed the Future & GIZ) : « Leveraging digital solutions & carbon finance: A game changer to engage smallholders in the transition towards regenerative agriculture »
Find the replay here and the exciting contributions of the following speakers:
Dr. Lakshman Rodrigo, Director, Rubber Research Institute of Sri Lanka
Johannes Mössinger, Unique Landuse
Dr. Mio Oka, Director, Environment, Natural Resources and Agriculture Division, South Asia Department – Asian Development Bank (ADB)
Margreet Muizebelt, Founder & Financial Specialist, Acorn Rabobank
Christian Chateauvieux, Director of Digital Solutions, Ksapa
Dr. Christina Tewes-Gradl, Managing Director, Endeva
Frank Sloot, Co-Founder, ESTI-impact
Michael Anthony, Co-Founder, Earth Analytics India
Raphael Hara, Managing Director, Ksapa
***
Given the environmental and social challenges we face today, it is becoming increasingly important to foster economic systems that are not only responsible and resilient, but also regenerative for environmental resources and social context.
Regenerative agriculture, a promising path to follow
In this context, regenerative agriculture appears to be one of the most promising and concrete solutions for the ecological and social transition, for several reasons:
• The acceleration of climate change calls for a rethinking of the role of agriculture in carbon sequestration and the prevention of greenhouse gas emissions while the agriculture and forestry sector accounts for 24% of global greenhouse gas emissions
• Adapting to these climate disruptions requires reshaping farm balances and improving their resilience
• Soil depletion leads to a decrease in yields on farmed land,
• However, the foreseeable increase in the world's population to 9-10 billion makes it necessary to reverse this trend,
• Especially since it is imperative that the evolution of agricultural production does not involve an increase in deforestation
• Globally, agricultural populations are ageing, and the social inclusion of women and young people remains a major challenge
• 78% of the poorest people live and work in rural areas and are mainly dependent on agricultural activities
• Social action and the prospect of better living and working conditions will be key to retaining younger generations in rural areas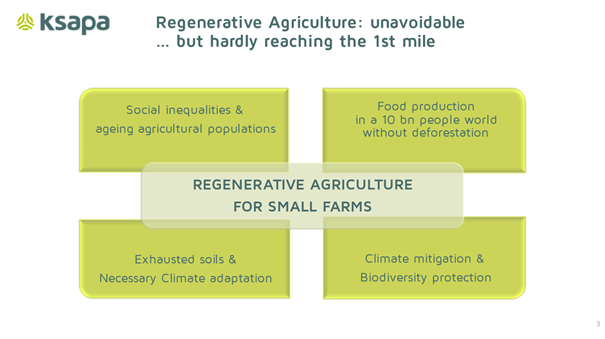 For these reasons, it is essential to promote the better use of existing land, soil restoration and the introduction of practices that allow better environmental health as well as more efficient and equitable business processes and perspectives… making the track of regenerative agriculture all the more relevant. However, the adoption of regenerative agriculture seems to have stagnated at the stage of scaling up and in particular seems to be struggling to reach the first level of agricultural value chains, at the level of smallholder farmers.
Carbon markets expected to boost in the coming decade
On the other hand, the so-called Voluntary Carbon Markets (VCM) are entering a promising but probably turbulent decade. This market grew to 1 billion dollars for the first time in 2021, and is expected to grow up to from 50 to 150 billion in 10 years globally… While Voluntary Carbon Markets are correlated with regulated carbon markets, they remain autonomous. It is likely that apprehensions and concerns around such emerging mechanisms will set in. The only way to avoid accusations of greenwashing or SDG washing will be to document robust proof of the social impact it creates. The AFOLU (Agriculture, Forestry) segment will continue to represent a significant part of carbon programmes but will increasingly have to integrate fragmented supply chains involving hundreds of millions of smallholder farmers.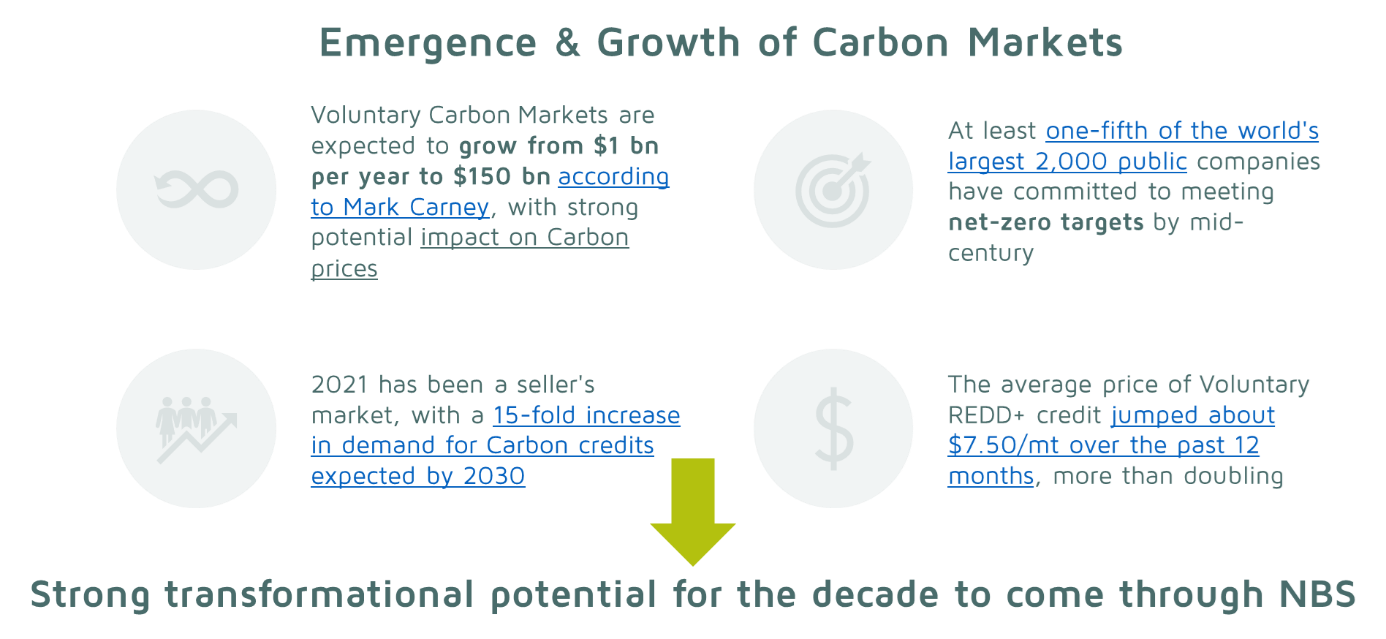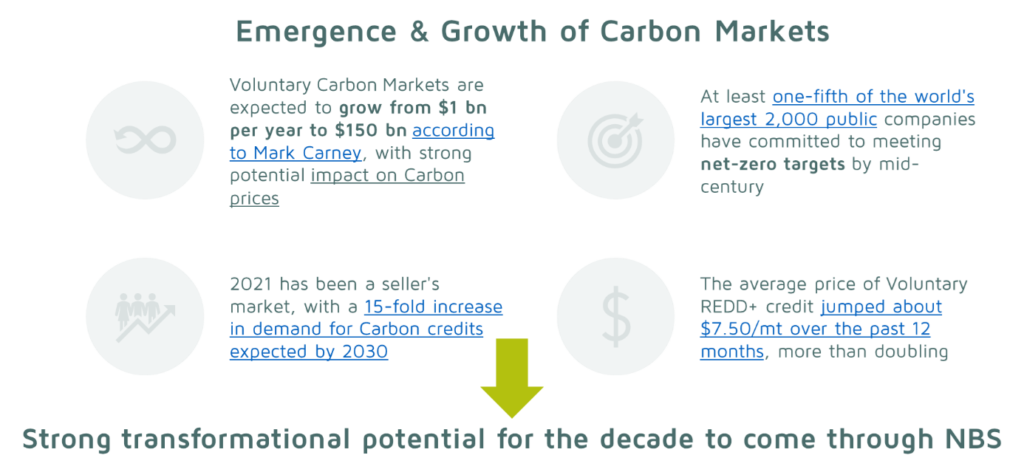 No transition if it is not a fair transition!
Indeed, the environmental transition can only take shape if it is part of a larger framework of social justice. A climate transition will not be possible if it is not a just transition. Thus, the inclusion of smallholder farmers in this newly emerging carbon finance mechanism is crucial, both for social equity and acceptability. In this context, it is key not only to develop new projects, but also to focus on existing farms: to promote changes in practices and the adoption of regenerative agriculture. It is an opportunity to take advantage of the growing Voluntary Carbon Markets to increase their surface area while creating real social & environmental impact and redistributing value.
Additionally, it is also an opportunity to build development projects in the long run. By giving access to additional funding sources, this approach could enable farmers to take full advantage of their initial implementation efforts, even in the event of non-renewal or reduction of their operating credits through compensation contracts.
All these are compelling reasons to include small farms in carbon finance projects, especially in emerging and developing countries, and help accelerate their transition to regenerative agriculture.
Numerous barriers to overcome .. and how digital solutions can help
However, there are a number of financial and operational barriers:
• Low carbon pricing
• High costs for the qualification and monitoring of credits as well as for transactions
• Uncertainty of emission levels
• Difficulty in bringing about change in practices and ensuring the long-term participation of smallholder farmers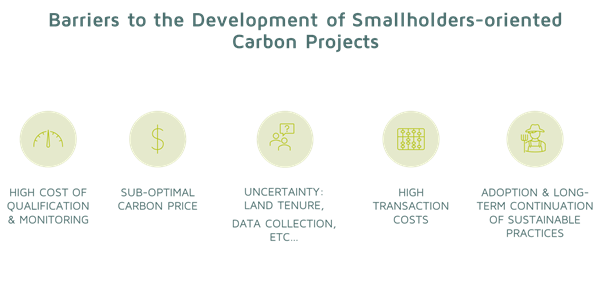 Bearing this in mind, digital solutions including low-tech solutions and data science tools, can help make the implementation and management of these carbon programs possible. They are affordable, efficient and can help create positive social impact.
In particular, there are three levels at which technology and digital solutions can offer more effective as well as equitable tools:
Validation, monitoring and issuance of credits:
E-learning
IoT Sensors & Technologies
Satellite processing & geospatial data
Data collection
Processing of abnormal data (outlier spotting)
Control systems and risk management of incorrect data
Verifying with external sources
Consistency checks via questionnaires and surveys or against comparable samples, or even farmers' own declarations history (Kalman filters)
Repayment of the benefits related to the carbon credits generated 
Remuneration in cash
– Mobile money
– Through shared investments at the cooperatives or farming communities level (e.g. smart storage, drones, etc.)
Remuneration in kind
– Token systems for access to products (e.g. inputs or tools) or services (e.g. mobile subscription, training, micro-insurance, etc.)
– Community programmes
These technologies must be combined and adapted on a case-by-case basis. They can help overcome the financial and operational barriers significantly to make carbon markets more inclusive and move closer towards regenerative agriculture.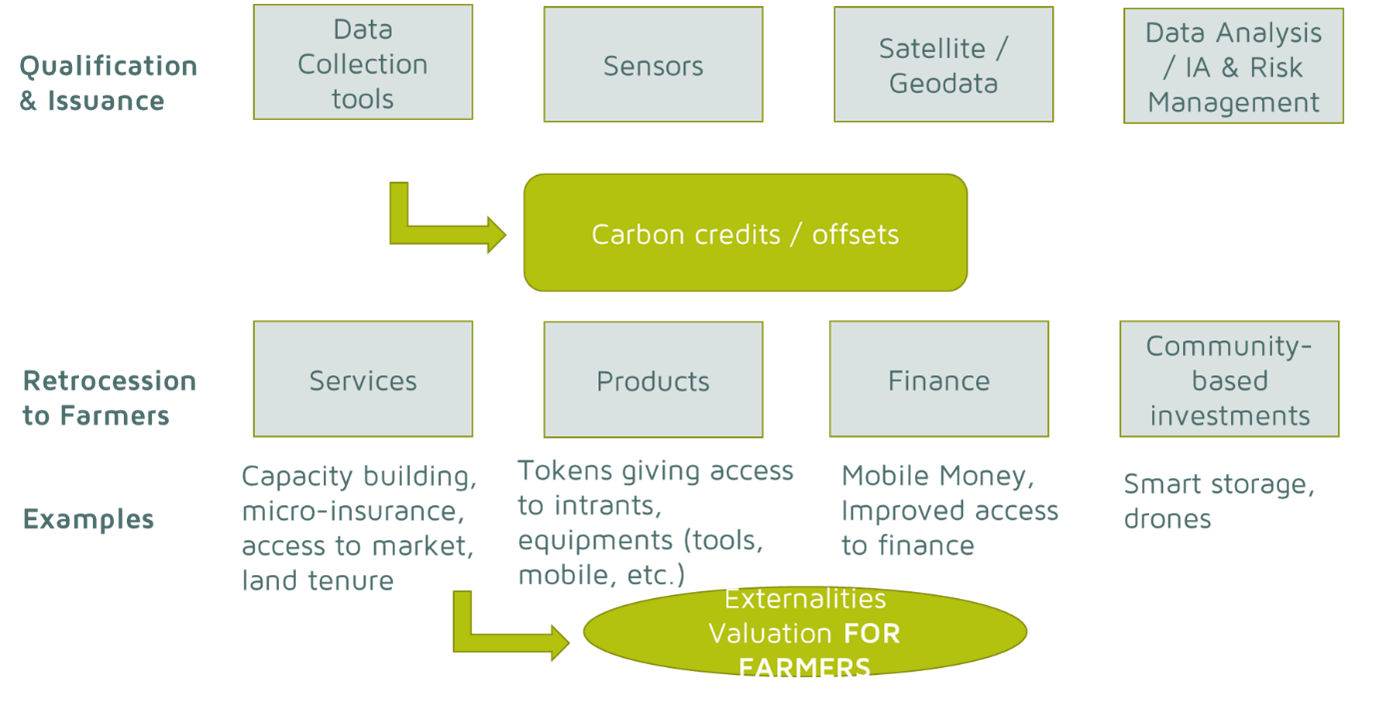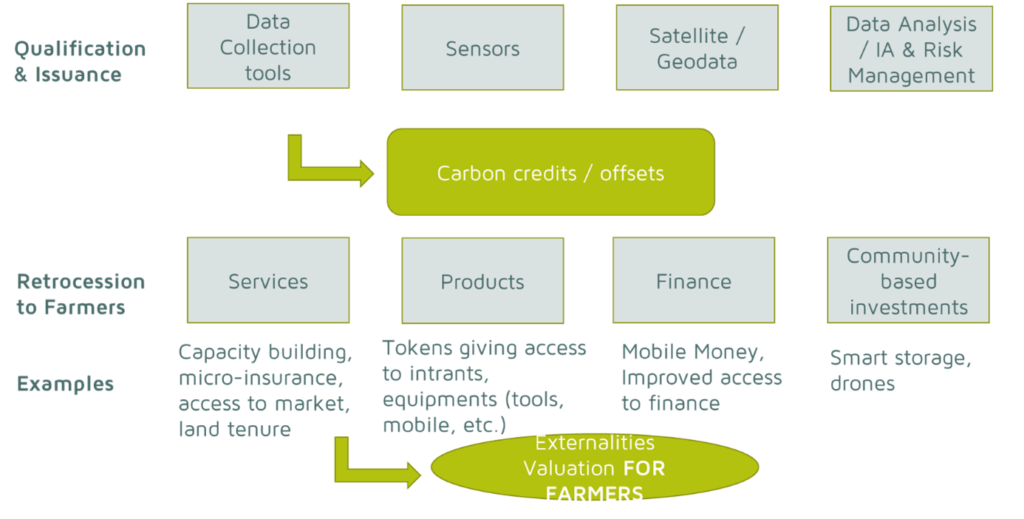 In a broader sense, this could help advance the implementation and utilisation of externality valuation mechanisms (as voluntary carbon markets are a typical example) in multi-stakeholder coalitions or through impact bonds: social externalities, such as gender equality issues for example, as well as environmental externalities around biodiversity for instance.
20+ years of experience in investment & asset management.
Raphael Hara works on relationships between finance and sustainability, in particular through the development and management of impact investment funds and projects.